We use Zaxaa to track and manage our affiliate program.
Before anything else, it's highly recommended that you bookmark this page because you're going to come back here to get your affiliate links.
So the next steps you need to do are:
Step 1:
Bookmark this page (Ctrl + D)
Step 2:
The affiliate program we are using is called Zaxaa. If you don't already have a Zaxaa account, you need to create a Zaxaa account (it's free) by clicking here.
Go & sign up for a free account with them.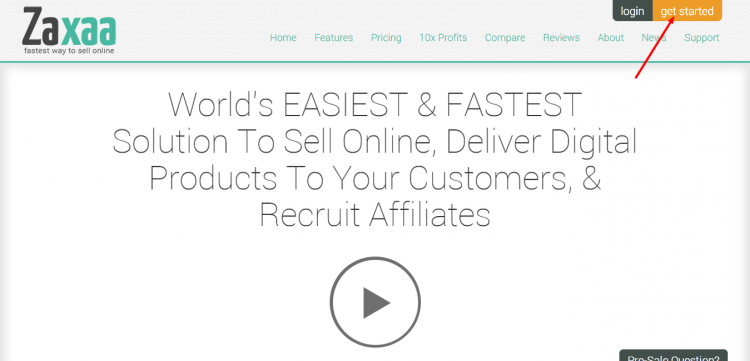 After signing up, Zaxaa will send you a confirmation email. You need to open this email and click the confirmation link inside. Yes we understand you've just done that to be on our affiliate mailing list, but this is different — this is for confirming your FREE Zaxaa affiliate promotional sales account (so you can start promoting & get paid right away).
Step 3:
Once you have received an email from them, click it to confirm and then you can login to your account.  Once logged in, within the dashboard make sure you have chosen the 'affiliate/partner mode' (grey box with red arrow below). Go to 'settings' and update your affiliate payout information.

Now, you can promote the product(s) you want below. Each link will take you to the respective program's affiliate page where you can grab your unique affiliate link and promo tools (you need to be logged in to your Zaxaa account).
Choose the product you wish to promote from the list:
Intuition Success™ Self-Paced Program

Transform Your Money & Wealth Mythology
Intuition Success Manifesting Circle
The Law of Delight – Master's Key to the Universe
The link will take you to the Zaxaa affiliate page where you can then 'request to promote this product'. Please look below at what each program provides you:
---
End Self-Doubt – A $197 product with 6 core modules, workbook, program guide + 2 bonus modules, checklists, and powerful strategies. Perfect for any self-help or personal development website to promote. High-end graphics + high quality production. You will earn 50% on after affiliate hosting fees & merchant account fees have been paid – which works to being approximate $90.
We offer you opportunities to have your own opt-in bonus offered right on the Thank You Page of each of our products and programs as "Exclusive OFFERS". Go here to add your bonus now.
---
Get 50% on Every Product Sale You Refer
You'll receive a 50% commission every time someone purchases one of our programs from your referral link.
You'll need to know your affiliate ID & password which was sent to you via email. Once you log in, you can find your affiliate ID (same as your Zaxaa username here https://www.zaxaa.com/settings/account >> go to tab "Account Settings" (need login).
Once you request to promote one of our programs, it should be automatically approved and your affiliate link will pop up. Once you have your affiliate link you can then share that with your peeps.
NOTE: If you still aren't sure where or how to get your affiliate link, Zaxaa has a great tutorial here.
---
Step 4:  Receive a Review Copy In Exchange for Your Testimonials/Reviews/Endorsements

If you are interested in getting a review copy of one of our programs, have a targeted email list of at least 2,500 people, and can commit to providing us a testimonial with a photo, full name and link to your blog post or video review should you find the material useful, please use the links below:
End Self-Doubt Review Copy Request
We'll send you a review copy within 1-2 business days. Once we receive your testimonial and endorsement, we will provide you with a link back to your website and a prominent testimonial for you on our sales page.
We are always looking for fantastic people to connect with and we will be happy to provide the same! We offer you opportunities to have your own opt-in bonus offered right on the Thank You Page of each of our products and programs as "Exclusive OFFERS". Go here to add your bonus now.
We value all our affiliates & partners and very much look forward to the opportunity of working together!
If you have any questions, or if we can be of help to you in any, please do not hesitate to contact us at isis@isisjade.com
With greatest thanks and warmest wishes,


Isis Jade & The Intuition Success™ Team